About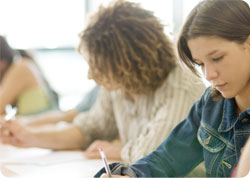 The Virginia Department of Education has contracted with the Evaluation Systems group of Pearson to create and administer the Virginia Communication and Literacy Assessment® (VCLA™), which measures the communication and literacy skills necessary for Virginia educators. Learn more.
Who Is Required to Take the Test?
For information about VCLA testing requirements and exemption criteria, please refer to the Virginia Department of Education website, www.doe.virginia.gov/teaching/licensure/prof_teacher_assessment.pdf

.
Test Information
Format
Computer-based test (CBT)
Reading subtest (091): approximately 40 multiple-choice items
Writing subtest (092): approximately 40 multiple-choice items, 3 short-answer items, 1 written summary assignment, and 1 written composition assignment
Time
4 hours and 15 minutes total appointment time
15 minutes for CBT tutorial and nondisclosure agreement
4 hours testing time
Test Dates
By appointment year-round, Monday through Saturday (excluding some holidays).
Check appointment availability

.
Test Sites
Located in Virginia and nationwide.
Locate a test center

.
Passing Score
Single subtest: 235
Both subtests: 470
Score Reporting
Scores are released within 10 business days of testing.
Testing Policies
When you register, you must agree to abide by all testing rules and policies.
Read them now
.


Tests may include test questions that are being evaluated for future administrations and that do not affect a candidate's score.